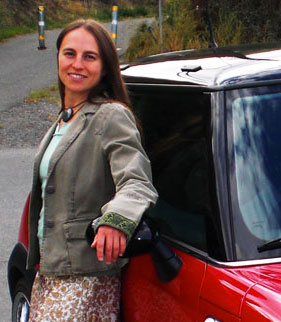 We, as humans, live within the overarching structures of time and space. Though both have their issues, time seems to be the real problem for most of us.
There's never enough of it.
It's been a year since I last wrote on this blog. It's been over three years since I stopped teaching yoga classes (though my book Yoga for Dragon Riders keeps finding its way into the world, so I guess my legacy lives on).
My twin boys are two and a half. This picture, with the Mini Cooper I used to race around in at speeds I wouldn't dare now that I'm a mother, is at least 6 years old! (Probably older, but let's not nitpick.)
In some ways, time has flown.
In other ways, time has flown and things set in the dimension of space have stopped. Like the addition we've been putting on our house for three years. (OMG! Three f'ing years of renovations. AHHHHH!)
Time drags when something is unpleasant, and skydives when you're having fun.
Read More "Slow Down Already! Applying Yoga's Wisdom to the Infuriating Illusion of Time"