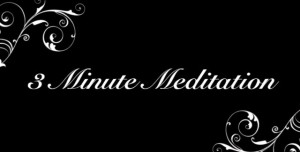 The following video helps you fit a quick, high quality yoga and meditation practice into a busy day.

By moving with your breath, you get in tune with it, and release tension in your body. The easy, seated yoga practice at the beginning of the video increases circulation and vitality.
Then, once you've done a bit of movement to help your body and mind feel more at ease, the three minute meditation takes you into a place of calm centeredness.
As always, please be sure to adapt as needed in order to make the practice right for your body and circumstance. You want it to feel great!
Do you know anyone who could benefit from this short practice? Share the love and send them the video!
Thank you for visiting. Have a great day and I hope to see you here again soon!
Katrina