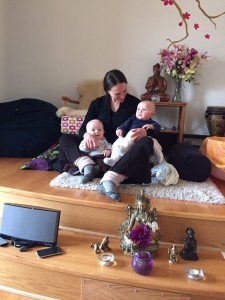 Well! Last Sunday I taught my first yoga class in a year and a half. It felt great to teach, and it was super special to see so many familiar and new faces in class.
My theme for the Sunshine Sunday mini-workshop, was "Love Your Body."
This is a big one, for me and for so many people. It means taking the time to take care of YOU, and also loving and accepting yourself as you go about your day-to-day life . . . no matter how busy it happens to be.
There are so many ways to give your body love! Here are some ideas:
Yoga, of course, is such a beautiful, healing offering to body, mind and soul.
Taking a walk – this is the most fundamental movement and can feel so good. Even better if it's outside in the fresh air.
Getting out into nature – surrounding yourself with a natural environment helps to bring calm and harmony on so many levels.
Eating wholesome, nourishing food (I've been having lots of homemade bone broths and slow cooker soups lately).
Heart to heart hugs – it's true! The heart has its own measurable frequency, and hugging someone (or a loveable animal) helps to increase beneficial hormones as well as just feeling good!
Gratitude is a very close frequency to love, and practicing gratitude is a great way to improve the way you feel. It is also an excellent bridge to love and acceptance, so if those are elusive to you at any point, turn to gratitude first!
Meditation . . .
During the restorative portion of the Sunshine Sunday class (after we'd done a strengthening and satisfying active asana session, PLUS some breath work and meditation), I went through a meditation that I think is both effective and really a lovely offering to yourself. This exercise brings love to each part of your body: every system, every cell.
What a gift to enter the vibration of LOVE so intentionally, and to do so in a restorative yoga pose is an added bonus, since your body is simultaneously getting the benefits of the relaxation and healing restorative yoga brings.
Here's the meditation, so you can enjoy it at home:
"I Love You" Full Body Meditation
In a relaxed position take a deep breath and bring to mind an overall sense of love and acceptance of yourself.
Beginning at your toes, go through every aspect of your body and say to that part of yourself, "I love you."
So, it goes something like this:
"I love you, toes."
"I love you, feet. Thank you for supporting me and taking me everywhere I ask."
"I love you, ankles."
"I love you, shins."
"I love you, knees. Thank you so much for everything you do."
. . .  and so on . . .
Things to think about: Include all the muscles, connective tissue, joints, internal organs, bones, etc.
Remember to include your eyes, brain, hair, reproductive organs, immune system, blood vessels and blood cells, and send extra love to any part of your body that needs assistance coming into harmony.
This brings lots of love to your body, and that alone is incredibly healing.
Enjoy!!!
P.S. I'm planning another Sunshine Sunday at the Yoga Loft on may 3rd. Stay tuned for registration info. Sign up early to ensure you get a spot, as the last class was sold out!