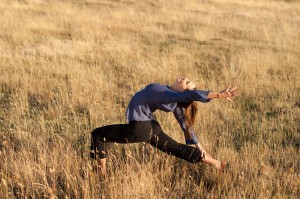 It's curious, to me, that so many of our sacred texts tell us that bliss is our true nature. I find it curious because this is a common experience when practicing yoga, and yet something that is seemingly harder to find in every day life.
So the question is: How do we invite that blissful nature to linger, to come forth fully in each moment?
Part of the key lies in being able to take in the beauty around you. In order to recognize beauty, you must be present in the moment. If you are present, you are less likely to be worrying or preoccupied with thoughts that pull you out of your natural state of bliss.
For some, bliss is a concept that is only "allowed" in small doses. I think that our culture has created a perception that no one is supposed to be happy all the time, that hardship is normal, and that struggle is part of life.
But these are not rules, only ideas that you can choose to adopt or release. You might know someone (or BE someone) who is truly happy most of the time. Why is that? It's an inner attitude, and a perspective on life that allows happiness to be your natural state.
Yoga is so excellent at helping us check in, let go of anything in the way, and return to that state of blissful experience.
The deeper I go in my practice, the more I am able to find bliss even when my computer dies, or when my dog jumps on my freshly printed posters and ruins them in his excitement.
Okay, maybe I fall out of bliss for a while when this stuff happens all at once, but I am able to come back to center SO much faster than ever before in my life! I recognize that it doesn't feel good to dwell on what can not be changed, and I choose new thoughts that DO feel good, trusting life to turn out perfectly no matter what.
That, to me, is the biggest contributor: choosing thoughts that feel good, and living in a state of trust in the mystery of life.
And all of the tools yoga offers, including movement, breath, meditation, and contemplation, strengthen your ability to make these choices, with awareness, in each moment.
Quotes about Bliss:

"Now may every living thing, young or old, weak or strong, living near or far, known or unknown, living or departed or yet unborn, may every living thing be full of bliss."
~ Anonymous, The Dhammapada

"Follow your bliss and the universe will open doors where there were only walls."
~ Joseph Campbell

"Nothing is more important than reconnecting with your bliss. Nothing is as rich. Nothing is more real."
~ Deepak Chopra