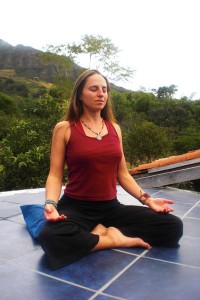 For most of us, it seems time has sped up and is flying by. I know it's not just me, but when I think that my baby boys are nearly 8 months old, it's astounding!
So how do we enjoy life, rather than feeling overwhelmed by too many tasks and too little time? Is it possible to befriend time, or at least not be bothered by the fact that it seems to be in such a hurry?
Here are some ideas:
Breathe. Yes, it is the most basic thing in life, and taking a few deep breathes (or even just one!) when you're feeling overwhelmed can make all the difference. Also, when you find those moments of calm, being mindful of your breath at those times makes it even more reassuring and peaceful.
Slow down when you can. Meditation and yoga are great ways to do so, but even just allowing yourself to sit down in the midst of a busy day, eat a meal without doing anything else, or just close your eyes or take a 10 minute nap can give you the boost you need to keep going.
Don't fight it. It never works to resist what is. Instead, see if you can find ways to celebrate the passing of time on a regular basis. Sunday family dinners, or special Saturday hikes perhaps?
Be present. People keep telling me to enjoy my babies while they're little, that they grow so fast! I know this is true, and am doing my best to be present. This goes for all of us, though, because the more you're present in the moment, the more enjoyment you receive and the clearer the memories will be once the moment has passed.
Encourage yourself. Be proud of yourself when you've accomplished something or had a productive day. Be just as proud of yourself if you take 10 minutes to do Legs Up the Wall pose, or give yourself permission to take a day off!
Let go of tasks that don't serve you, asking yourself "Is this really important right now?"
Did I mention taking a deep breath? Oh yes, I did.
I hope that gives you some ideas, or simply a few reminders, of ways to flow with the current of time. In the big picture, often it is not the little things that we need to do that matter, but the quality of life overall. Let that be your focus, and maybe you will find yourself laughing next time you flip the calendar to a new month and wonder how it's May already!
Because time seems to be racing for me personally, I've chosen not to offer any more classes in the foreseeable future. There is simply too much to do and two little babies to enjoy. 🙂
If you're able to join me for the 2 hour mini-retreat I'm teaching this coming Sunday, it would be wonderful to see you there!
Quotes on Time:

"Time you enjoy wasting is not wasted time." ~ Marthe Troly-Curtin

"Yesterday is gone. Tomorrowhas not yet come. We have only today. Let us begin."
~ Mother Teresa

"I wish it need not have happened in my time," said Frodo.
"So do I," said Gandalf, "and so do all who live to see such times. But that is not for them to decide. All we have to decide is what to do with the time that is given us."
~ J.R.R. Tolkien