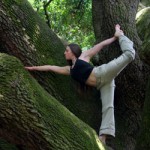 Metairie is a beautiful suburb of New Orleans, Louisiana. I love offering yoga in Metarie because the people here are friendly and fun, just like most of the people in the New Orleans area.
I teach an uplifting, therapeutic, empowering yoga as an Anusara-Inspired™ yoga instructor. The combination of a fun loving, flowing, heart oriented philosophy with specific alignment principles is one that has revolutionized the world of yoga, and transformed the lives of hundreds of thousands of people.
I am available for private yoga sessions to help you in many ways, including the following:
To address specific physical conditions, concerns, or pain, so you understand how to keep yourself optimally aligned on and off the mat
To help you develop a safe and enjoyable personal practice you can do on your own at home
To save you time so you don't have to travel to class
When you request private yoga sessions with me, I come to your home so you don't waste any time traveling to a class, and you're also in a very comfortable environment.
Here are complete details about private yoga classes in Metairie with me.
Please email me if you want to inquire about private yoga classes in Metairie or in the New Orleans area.
Please visit my Classes, Trainings and Retreats page to check my current class schedule.
If you live in Metairie, consider private yoga classes to get the most benefit in the least amount of time.
In addition to the points I mentioned before, here are a few more reasons private classes are an excellent choice:
To get you started as a beginner or to skyrocket your already established practice
To invite family members to explore yoga when they aren't comfortable going to a class
To delve deeper into the philosophy or meditative techniques of yoga
I love helping people. Honestly, when clients tell me how good they feel after a class it is so rewarding for me. I am deeply grateful that I get to share what I love with so many people to such remarkable effect.
I am the third generation of my family to live in Metairie – I actually live in the house my grandfather and great uncle built! I feel such a connection to this area and the lively, fun and friendly people here, and I love being able to give back.
Yoga can be a practice that leads you deeper into the truth you already know in your heart, or if you'd just like to concentrate on the physical, mental and emotional balancing it provides, that's fine too.
The benefits of yoga itself are innumerable and well documented. When you increase circulation, flexibility, and breath, your body thanks you. When you decrease stress levels and find peace of mind, your whole being thanks you.
If you've never tried yoga, I invite you to give it a shot. So many people who were very skeptical of it at first now wouldn't give it up. If you feel uncomfortable going to a class, having private sessions are an excellent way to benefit from yoga. Whatever is best for you, I truly hope your yoga practice brings you the best of health and joy.