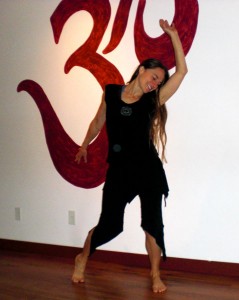 What were you doing at 5:45 this morning?
Myself and some other fabulous women, we were swingin' our hips and having a whole lot of fun at the first Boot Camp Dance Party! It was so much fun I might make it a monthly surprise in camp…
It was pretty phenomenal, really! We worked up a sweat (otherwise known as a healthy glow), did a few push-ups and squats here and there, and toned our smile muscles with grins and abs with giggles and belly dance moves.
Why Dancing Is So Good For You
A lot of people don't dance much when they aren't at a bar on the other side of a few drinks. Dancing can be way out of the comfort zone for some women, as was the case for some of the campers this morning.
But with practice and opportunity, dancing can truly be one of the healthiest ways to get your groove on, burn calories and tone muscles.
It was fun to watch as some of the girls in camp danced around despite their obvious initial discomfort with the idea. One beautiful woman commented to me on her way out that it was out of her comfort zone, but also a lot of fun!
Dancing evokes a freedom of heart and body that helps us get in touch with our inner child and also our own sense of self. It has been a part of culture from the beginning of time, and continues to be a culture into itself in as many variations as you can think of.
From ballet to hip-hop, belly dance to raves, dancing is a way for us as humans to express our creativity in a whole body way.
When you let go and allow the music to move your body, you can let go of a lot of stress and other stuff too. Laughter generally comes along with the freedom as well, which is incredibly beneficial as well as just plain feeling good.
As for dancing as exercise, it's a great way to get more action and cardio into your fitness routine. One reason is because it's so much fun!
According to the Mayo Clinic, if you dance for 30 minutes continually, you'll burn anywhere from 200 to 400 calories, which is the same as walking, cycling or swimming. It also is a great way to keep your body strong.
I'd say we probably surpassed that this morning, especially since we tossed a few squats, lunges, push-ups and burpees in there. Though it would also vary depending on how wild each woman was dancing. (Another reason to give'er).
Here's a video of one of the songs we danced to this morning. One Love.
Dancing is also beneficial mentally and emotionally. It helps you let loose and reduce stress, leaving you feeling healthy and energetic (or perhaps more relaxed if you were stressed out to begin with.) It's also a great way to build self-confidence as you get comfortable expressing yourself creatively with movement.
Here's another video of one of the songs in this morning's playlist:
We had so much fun this morning, got a great workout in, topped it off with yoga, and everyone left with smiles on their faces. I think we'll have to make this a regular boot camp event!
Don't forget, you can have your own private dance party ANYTIME! Just toss on some of your favorite tunes, crank up the volume, and turn your living room into a disco. Close the shades if you feel self-conscious, and then you can dance like nobody's watching!
If you were in the boot camp dance party, or have something to add about dancing in general, please feel welcome to leave a comment below!
Click to find out more about the Yoga Boot Camp (for Women only).
P.S. I have a BIG surprise for all Yoga Boot Campers on Monday. 🙂