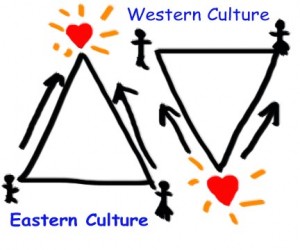 Let's face it – sometimes it's harder to be patient with the people we love. Can yoga help us learn how to stay balanced in relationships? Definitely.
Last week I was sitting at a coffee shop with my boyfriend and a friend of ours. Let's call this friend Justin. Well, Justin was explaining a theory to me, complete with a doodle diagram of a triangle (which I've tried to recreate here).
Basically the theory went like this: In Eastern culture – specifically India – people get married and they grow closer over time. In Western culture – the US, for example – relationships start of with fireworks and then people tend to grow further apart.
Now this is a bit of a generalization, as there are a lot of really successful relationships anywhere in the world. However, Justin was finding himself headed toward the wide end of the triangle with his significant other.
On the other hand, after so many of the 'growing apart' type relationships, I'm extremely grateful to be in one that keeps getting better (though not without a lot of personal evolution).
Of course, some truth can be seen in this theory: India has the lowest divorce rate (1.1%), and North America is pretty up there (US is 45.8% and Canada is 37%). There are a lot of factors that influence this, but the numbers do say something, don't they?
I was thinking back to this doodle and conversation, and my brain made a connection with this phenomenon and the consumption driven American culture.
It seems we live in a throw away society in many different ways. If it doesn't work, rather than using the effort to repair it, we often just toss it out and get a new one. Yet the problem with this approach to relationships is that part of the 'not working' issue is our own, and it comes with us when we leave.
Don't get me wrong, I think most of the relationships that go under happen because people were ready to move on. And, being divorced myself, I'm a firm believer in following your heart's truth and wisdom. Sometimes relationships are only meant to last so long, and when they no longer serve the good of both parties, a change should be made.
But I think it's often a difficult thing for people to not only hear but actually do something about; most of the time the 'issues' that make relationships grow apart aren't the fault of the other person, but our own stuff.
Falling Into Judgment
It seemed so easy in the beginning, didn't it?
The thrill of falling for someone, discovering who they are and getting to share yourself with them takes over. You get filled with excitement, your hormones have a party, you smile all the time and people don't even have to ask to know what's up. They know. You're in love.
And then, after a while, it seems like you've discovered all the really great parts of the other person, and you start realizing there's some things maybe you're not so crazy about.
Here's where yoga comes in.
Relationships are like mirrors. We rejoice in seeing the things we identify with and like, and then are resistant to the things we don't like.
But, as I'm sure you've heard before, those things that others do that we don't like are generally things we don't like in ourselves, or maybe they just trigger reactions we wish we didn't have. And this often leads to judgment.
In my experience, one of the most damaging things for relationships is being critical of the other person. This is an issue I have experience with. I used to get caught up in all the things that the person I was with did that didn't measure up to my expectations.
There's a real danger in starting to see all the things you don't like about your partner, because you start to not see the things you really love about them. That and you also start to see the things you don't like about yourself.
My problem was I was so hard on myself that I extended that to my partners. I got it in my head that they weren't good enough. But that wasn't true – each person is always perfect in their human imperfections, and it wasn't my partners who needed to change, but my perspective.
The Yoga of Relationships: Seeing the Beauty
Relationships are the ultimate practice of yoga. They push all our buttons so we can choose to evolve, and so we can see ourselves from many different angles. They bring us through the full spectrum of feelings, and invite us to live life fully and with gratitude.
Yoga teaches us to look for the beauty in life. This is vital to the health of our relationships, especially as they get more challenging.
It starts with being aware of our reactions. As I recognized my habitual 'being hard on everyone' attitude, I realized I was stuck in a judgmental outlook. This is no fun for anyone involved.
When you find yourself feeling less than joyous with your significant other, pause and notice what is happening with you. Yes, what they're doing is a definite influence, but are you also stuck in your own pattern?
Part of the practice of yoga is creating patterns that enrich life. When you find a habit you don't want any more, the best way to change it is to create a different pattern.
So, if you find yourself being critical, or even if you find yourself being criticized, you can create a new pattern. Instead of getting caught up in judgment, look for the beauty.
What do you like about the other person? What can you find about them, right in that moment, that is good? You know they're a good person at heart, otherwise you wouldn't be with them in the first place, right?
When you train yourself to look for the good in other people, it's a lot less likely that you'll stumble into the jaws of judgment, or turn little things into big issues.
If you find yourself being critical, soften and learn to look for what works for you rather than what doesn't.
And if you're on the receiving end of criticism, see if there's a way you can highlight the good about the other person or the situation. Lead by example, and hopefully they'll get the hint.
Maybe not everyone is destined to be together forever. I honestly don't think that's the point of relationships. But what I do think is important is to enjoy the journey, however long it happens to last.
Beauty and goodness are expressions of love. May they lead you to delight.