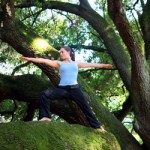 Yoga cultivates strength, wisdom, and the ability to discern truth from confusion – all attributes of a skilled Peaceful Warrior. Even Warrior Pose comes up in myriad forms during an asana practice.
As your yoga practice extends into every aspect of your life, you find yourself becoming stronger and yet more receptive; making choices which benefit both you and the greater good.
Personally, I have witnessed an incredible shift in my own self; changing patterns that were not serving me and re-creating myself as who I want to be.
I share the following with you because these inspired words came to me this morning, and I think you may see yourself reflected in them.
I am a Peaceful Warrior, I am.

Bound not by anger of vengence…

Instead I am ruled by love and wisdom

Boundless in my own acceptance.

I am powerful, Oh yes! I am.

My weapons are truth and light.

I summon enemies to forgiveness

Sing and dance rather than fight.

I am a being most unique, I am.

Yet you too can choose this fate:

Living in the realm of joy and peace,

Your love-light dissolves all hate.

I am a Peaceful Warrior, I am.

And I have come to change this time.

One leader of many in the shifting of now

Into a world illuminated and kind.
In the early morning clarity words come to me, weaving invitations of beauty and promise of boundless potential.
"What do you choose in this Now?" they ask, forming a smile and shining their open palms.
"What do YOU choose in this Now?"
For the choice is indeed yours. Make clear your intention in the love-light of oneness, then go play and dance the life-game as never before. YOU are a powerful being of love and wisdom.
Go. Make beauty of your life.