In this episode of Yoga Radio with Katrina Ariel:
Have you noticed yourself opening up to new ideas because of your yoga practice or other things that have happened recently in your life? Have you heard of shamanism or had any experience with shamanism?
My guest, Tony Samara, is a kind, wise, and internationally celebrated spiritual teacher who will be speaking about shamanism and the simple yet profound message it holds for us. Tony has written four books, including the new eBook, Shaman's Wisdom.
In the show we address some of the most pressing concerns we're facing today, and some of the ways we can shift ourselves to heal or dissolve those problems.
I especially enjoyed this conversation because many people don't realize how many similarities shamanism and yoga share, so it is fun to gain insight from Tony's vision and experience. Be sure to tune in for this one!
Click below to listen to the show. Feel free to share. 😉
Yoga Radio: Shaman's Wisdom with Tony Samara
Recorded LIVE on April 5, 2012.
Guest Bio:
Tony Samara, author of 'Shaman's Wisdom,' 'From the Heart,' 'Different Yet the Same,' and 'Deeper than Words' was born in England, grew up in Egypt and also in Norway where he discovered the "Zen Buddhist philosophy".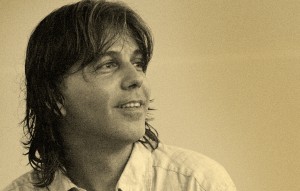 This discovery eventually led him to the "Mount Baldy Zen Center in California, USA" where he learned the spiritual teachings of "Kyozan Joshu Sasaki." He had curiosity to explore further the essence of spirituality and thus went to live and learn with shamanic communities around the globe including a period of time spent with some highly influential shamans in the Amazon River region and the Andes Mountains.
Now people from all over the world visit Tony Samara to take spiritual guidance and experience being in his presence. His main countries of activity are in Europe yet with the assistance of the Internet is attracting a Global audience through frequent online interviews and live satsangs.
His function is as a Spiritual Teacher who encourages all to lead their lives actively in a noble way in order to realize the evolution of human consciousness. Tony Samara is a mirror of what is possible, a shining reminder of the continuous possibility of being human.
You can learn more about Tony at www.TonySamara.org, and order his books including Shaman's Wisdom on Amazon.com.
Walk between worlds in my book, Yoga for Dragon Riders. Click here to explore the website where you can download the first 2 chapters of my book, and get 2 free yoga practice videos. 🙂