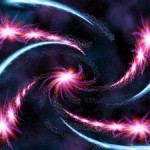 Wow! What a year it's been – what a decade, really! And we're in for a very special transition into the next year.
Tomorrow, on New Years Eve, we'll celebrate under a full moon. Because this is the second full moon in December, it is also a Blue Moon! To top that off, there will be a partial lunar eclipse, though I don't think we'll get to see it in North America.
Needless to say, the heavenly bodies have aligned for an ultra potent moment in time! How will you celebrate it?
Here are a few ideas for you:

1.)    Make a game out of remembering all the blessings of 2009. You can do this alone, but this is also a great thing to do with your mate or family. List off all the fun times, adventures, challenges, blessings, and other gifts in the last year, and be grateful for every one!
2.)    Create your intention for 2010. Get clear about what you want your life to look like. Set realistic goals – not resolutions to be forgotten, but meaningful commitments to yourself. Write down a very clear intention where you will see it every day.
3.)    Plant your dreams and watch them grow. Another excellent way to manifest your intention is to take a rock or crystal and blow your intention into it, then bury it. You can whisper your intention to the stone, or literally blow on it while picturing your ideal self and surroundings. Bury this stone in the earth (or if the ground is frozen where you are, put it in a plant that you don't plan on repotting anytime soon) and ask that your dreams become reality as you place it in the soil.
I also invite you to take just 10 minutes and do this meditation for world peace. You'll feel so good after you do!
And, of course, one more excellent way to ring in the New Year is to practice yoga and be grateful for your body and breath!
Here's a short VIDEO yoga practice that may give you some ideas if you can't make it to a class, or can be used on its own if you don't have time for a full practice.
May we truly have peace on earth and good will in the hearts of all human-kind.
Have a bright and blessed New Year's Eve!
Katrina Ariel
Tell me what you're going to do or what you did for New Years by commenting below!