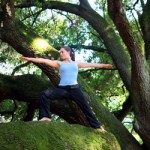 Metairie LA and the New Orleans area is such a great place for yoga. Why? Because it's so rich and full of life, culture, and soul already – doing yoga here is like bathing in multicolored vibrancy!
I spend half of my year in New Orleans and the other half in BC, Canada. I love both places deeply. My family lives in Metairie, just north of New Orleans, so I have a great reason to come here to teach, play, practice, and discover new adventures of yoga off the mat.
When I'm teaching in New Orleans I generally sub for local instructors at Swan River Yoga. I also enjoy teaching at the local gym, because the ladies there are so great. Of course, gym yoga is a totally different environment, but don't think that the right teacher can't still take you deep into your center while you push the edge and break a sweat.
Private & Group Yoga Classes with Katrina Ariel in Metairie LA, and the New Orleans area
Anytime I am in the New Orleans area I am available for private yoga classes, which are excellent ways to empower yourself by learning how to tailor your practice for the most healing and enjoyment for your individual needs. I really enjoy teaching one on one, and have had phenomenal response from clients who have discovered how to align to be free of pain, or have taken their practice beyond what they thought possible.
Why take private yoga classes in Metairie or New Orleans with me? Click to find out.
If you'd like to inquire about a private yoga session, please email me.
For my current class schedule, visit my Yoga Classes, Trainings, and Retreats page.
Recommendations For Yoga In New Orleans
My favorite places to practice in New Orleans, and the teachers I personally recommend are the following:
I study primarily with Anusara® yoga instructors Cat McCarthy and Laura Flora. Check out Cat's schedule at http://www.nolayoga.com/, and Laura at Wild Lotus Yoga http://www.wildlotusyoga.com/classes.html
Other instructors I particularly enjoy are Aaron Lind, Keith Porteous, and Michelle Baker at Swan River Yoga. Though they're not strictly Anusara yoga teachers, they're all, as Aaron says, under the influence of Anusara. And if I may say so myself, they're tremendous people who each do so much to nurture and grow the yoga community here in our beloved New Orleans (aka NOLA).