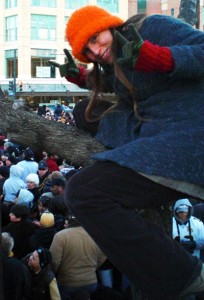 True togetherness brings a sense of belonging that still allows for self expression; something New Orleans, home of the Saints and joyful leaders of the Who Dat Nation, knows how to do very well. And I invite you to consider yourself a part of it.
All the excitement is not just about football, rest assured. The spirit of community here goes far beyond that.
We can all learn a lot from the culture of community in New Orleans.
In fact, I think part of the purpose of this city and its people is to teach us (the rest of the world) how to support each other, and at the same time allow each individual to express themselves as they choose.
A sense of being a part of something bigger and also free to be who you choose to be is what Mardi Gras is all about, and every other celebration that happens here.
"Let's all get together and have a good time," New Orleans says. "Be yourself, or try on a new identity as you don your costume – just remember it's all in good fun!"
And that's what's so great about this place. Sure, natives are proud of their culture, but it isn't exclusive or elitist. Instead it's a sense of co-participation that says "The more the merrier!"
Can you sing or dance or cook? Come on down! Can you laugh and enjoy – will you appreciate the wonder and add your voice to the chorus of celebration? You're welcome to be here.
The support that is created with this community is profound. It comes from the willingness of the people here to make everything a party. At Mardi Gras, Jazz Fest, and other festivals in New Orleans great crowds of people come together every year – people who otherwise wouldn't be with each other.
I think these gatherings are a big part of why people are so friendly. You can pretty much strike up a conversation with anyone, anywhere (grocery line-ups, walking along the street, shoulder to shoulder along a parade route).
You meet the neighbors, so it were, which is something much of society has lost.
Of course, Hurricane Katrina brought the New Orleans community together in a different way. Tragedy demands that we work together, and that is one of the greatest gifts that came from the devastation – not only that the local community became closer, but that the overwhelming answer to New Orleans' need connected it to the whole world.
And this is a beautiful thing. It does not belittle the great loss and suffering that occurred (much is still being rebuilt), but it uplifts none the less. Because New Orleans felt the love of people around the world, and the world knows the gratitude of New Orleans.
In this way the community of the heart went global.
Why The New Orleans Saints Super Bowl Victory Means So Much More Than Football (Or Who Dat Sayin' They Done Hearin' 'Bout Them Saints!)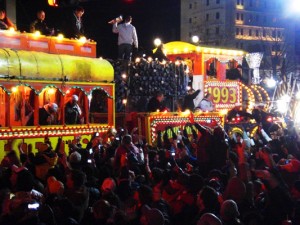 This isn't just about a team that waited 43 years for their turn to shine. It's about a people that have a long history of struggle reaching a zenith of triumph.
It's about everyone coming together to celebrate like they never have before – and to feel a sense of community that is stronger than ever!
And it's about New Orleans being in the media spotlight because of something great, rather than because of a tragedy.
So many people I've met on my travels still think New Orleans looks like it did right after the storm.
People need to know that New Orleans is ALIVE, baby!
I'll admit, I didn't even like football before getting swept up in the love of the Saints. But now I'm a believer in what happens when a great many people all support the same cause. Do you have any idea how many people were praying for that Super Bowl win?
Right after the Saints won the Super Bowl, my boyfriend and I went for a walk to a local café for coffee and beignets. As we walked along the road my hands were up in the air half the time in answer to all the cars honking in overjoyed delight.
At the café, which was packed with black and gold clad people, every time someone new came in there was a rousing chorus of Who Dat! People were hugging strangers in complete, open hearted gratitude all over the city.
Last night, along with a good portion of New Orleans, I watched the Saints Super Bowl Parade. It took me and my boyfriend over an hour in traffic to get downtown (usually a 15 min. drive), and another 30 minutes or so to walk from our parking space to the parade route.
We ended up climbing a tree in order to see over the heads of the massive crowd of people who braved the near freezing cold to see the team that had brought their community together more than ever before. It was uncomfortable, but that didn't matter one little bit. We were a part of something so grand, and participated in a celebration that is unique on the face of this earth.
You don't know what fun a parade can be until you've experienced one in New Orleans. If you ever have a chance, get down here. The people will welcome you with open arms.
Anusara® Yoga And The Community Of The Heart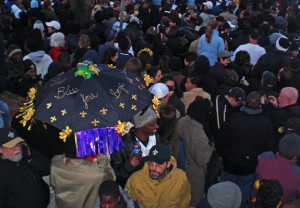 In Anusara yoga we talk about the community of the heart. When you are endeavoring toward a common goal (like health, happiness, and awakening) then you are a part of a group of others who are doing the same – even if you don't know them.
It's a togetherness that New Orleans (and everyone connected to it) exemplifies.
When you realize you are a part of something bigger, there is a glorious humility that comes with it, because you feel like you belong. Your actions add to the whole of the bigger picture.
Every time Drew Brees or Sean Payton of the Saints were interviewed, they were constantly giving thanks to the fans and credit to the whole team. The greatness of their humble awareness is not to be overlooked.
Having that humility that comes from the remembrance of something bigger gives you great strength. In yoga, that can be as simple as remembering that there are others in the class that are being challenged just as much, or even more so, than you. It can be as profound as feeling yourself connected to Spirit – to the truth you find in your own heart.
With the Who Dat Nation, which goes well beyond New Orleans and the US, it means that every person who tuned in to this amazing journey of New Orleans realized that they were a part of something great, and that each and every one of them was appreciated.
At any time, everything in life could change. It could disappear or be turned on its head in a heartbeat. New Orleans knows this intimately, but it goes for everyone because part of what makes life so precious is its impermanence.
But when you feel the support of a community, it lends a stability that is otherwise elusive in this ever changing world.
Know that you are a part of this community of the heart. Because you have compassion, because you do your best to be a good person, and because you are brave enough to be human in a strange and wonderful world. You belong.
Has the excitement and community of New Orleans touched your heart? Please leave a comment and share!