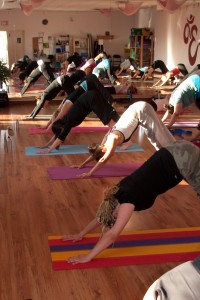 One of the reasons the Kamloops Yoga Boot Camp for Women has been such a wild success is because it's so much fun!
It's really hard, of course, challenging you to push to your edge and play there, but we keep it light hearted while we give'er.
In fact, many campers have told me that they never knew fitness could be so much fun!
Now that we're inside for the workouts and yoga practices, we've been coming up with some new ideas to make boot camp even more fun AND more effective. Your feedback has been really helpful in continuing to expand and enhance the program.
So what's new at boot camp?
More Metabolism Boosting Interval Training. Why? Well, interval training is short bursts of high intensity exercise spaced out between periods of rest or easier exercise.
This is one of the most effective ways to get your body making muscle and burning fat. When you do Interval Training on a regular basis, your body burns calories even in your sleep!
More Fun! Friday Dance Parties are in effect! The response to last camp's dance party was so enthusiastic, I'm making them a weekly event. One woman told me her abs were happily sore from all the dancing, another said she'd never had so much fun working out!
Dancing burns calories, tones your abs, builds strength and confidence while you get wild on the dance floor – this is a totally different experience than any other opportunity to dance. It's a safe place where you won't be judged. You can be silly, let loose, and feel great while you get lean and sexy!
More Yoga. Because we're inside now and don't have shoes on (except for some extra special workouts), there will be less jumping in our warm ups. We're trading jumping jacks for Sun Salutations, and bringing more strong yoga poses into the workout.
Even though they might not be fast paced exercises, the yoga poses will definitely get your blood moving and muscles working, and you get a great stretch at the same time. It's a fantastic balance for all the strength training we do.
More Health and Fitness Tips. We've been on the look-out for simple, straight forward approaches to eating and working out that you can easily bring into your life. We'll be sharing these with you so keep your eye out for those emails. If you're not on the email list, subscribe below and get 3 free videos!
More Goodies! Everyone gets a Yoga Boot Camp t-shirt, which were a big hit at their premiere in the last camp. They're made in Canada out of bamboo and organic cotton, and they feel so nice! We also started Super Student Prizes during the October camp, which we'll be continuing to give out as rewards. Each week someone won a massage,treatment with Jen Larsen, yoga package, or pedicure.
AND one hard working and dedicated camper, Constance Ladell, won a full Yoga Boot Camp for making the biggest transformation in her body and lifestyle. Read her story here: Yoga Boot Camp Winner. She's shared some great ideas that helped her lose 2 lbs each week – 8 lbs total in just one camp session! Nice work Constance, and props to everyone who has been continuing to take care of themselves and be consistent with their practice.
I'm excited about the upcoming camp!
To join the fun and keep your fitness and yoga practice inspired and progressing, Register for Yoga Boot Camp Today!
Keep smiling – it tones the muscles in your face. 🙂
Oh, yes! I've got Yoga Boot Camp gift certificates available. You might want to give one as a gift or ask for one for yourself. Just email me to request a gift certificate for boot camp and/or yoga classes.