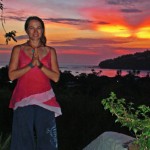 Though this day signifies a time of giving thanks in the US, everyone in the world can benefit from the power of gratitude every single day.
Gratitude is one of the most direct ways into the light of the heart.
Giving thanks helps you to feel the interconnectedness of all life, and so doing, enter the flow of grace in a most beautiful way.
Mini-Meditation:

Sit beautifully, in full awareness of your posture.

Take a deep breath, and as you exhale feel the earth beneath you.

Offer the nurturing planet gratitude for everything she provides.

From the inside brighten and grow taller, rising on your breath.

Feel the way you are breathed, and infuse your breath with a grateful light.

With the next few breaths, make your beautiful body sparkle with loving breath.

Take a few moments, several minutes, or as long as you'd like, now,

And acknowledge the blessings in your life.

Loved ones, opportunities, talents, joys…

You can start off with "I'm so grateful for…" or "Dear Universe (or other divine word of choice) thank you so much for…"

When you've gone far enough, and are filled to overflowing with gratitude, open your eyes and continue this practice. If you see people you're thankful to have in your life, tell them. If you see beauty, speak of it. When you eat, bless the food and offer a blessing to those who have less than you.
This sweet thanksgiving practice is one of the most important things you can make a part of your every day life, for when you are aware of your blessings, the world feels and looks much brighter!
May all beings be happy. May all beings be free from suffering. And may all beings choose to live in love, joy, and peace. Blessed be!
What are you grateful for? Post a comment below and shine out your gratitude!