This is a very simple (though perhaps not easy) way to stop yourself from worrying:

1. Focus on the Now
2. Think about "what IS," not "what if"
3. Breathe deeply and trust yourself
4. Repeat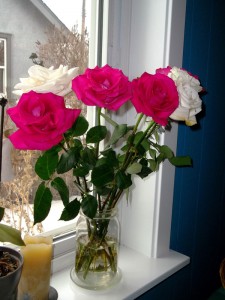 I don't pretend to have this mastered, but when I catch myself obsessing on thoughts that aren't true or serving the moment, this is what helps me get out of that thought pattern.
Women seem to have a particular talent for worrying, though men can excel at it as well. Sometimes I think I'm hard-wired to fret over things completely out of my control, or things that haven't happened and may not come to pass. I've been this way since I was a little girl.
But that doesn't mean I have to live in a constant state of worry for the rest of my life! We are all able to make choices and changes in our thought patterns at any time.
So, I choose to practice these steps, over and over and over again, as much as necessary until my thoughts naturally stay on "what is," rather than straying to "what if."
Some other tips that can help you be free from worry:
Get grounded: connect to the earth and focus on the beauty of the natural world.
Smile for no reason.
Do yoga, or move your body in a way that feels good. This is always a great way to come into the present.
Focus your thoughts on what you DO want to happen in your life. Create a positive imprint in your mind and emotions.
Sing or put on music that makes you feel good.
Get creative in whatever way appeals to you.
Pray, if you are so inclined. But do it in a way that states that you are grateful for whatever it is you're asking for, as if it has already come to be. Having faith (in whatever way naturally calls to you) helps build trust in yourself and in the Universe.
Do something that helps you to relax.
What are your tips to stop worrying? Please share them with me in the comments. We can all use all the help we can get. 🙂