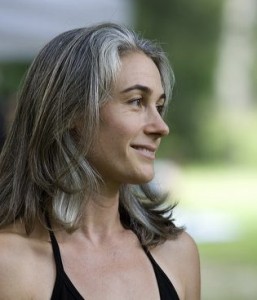 This post, by the lovely and talented Cat McCarthy, is timely and inspiring. Enjoy!
——————————–
The winter doldrums have morphed into sunny, seasonal temps.  The plants and flowers are beginning to blossom, and so are we.  In the wise words of Anusara Yoga Grande Dame Betsey Downing, "Bloom where you are."
I love this simple reminder to be fully self-expressive where you are planted, rather than where you want to be, think you ought to be, or where your bloomin' neighbor is growing.
The precept of the Anusara Shiva/Shakta philosophy is that we are already full and perfect. It all dwells within.  Nothing outside of ourselves will complete us, as we are already whole.  And yet we often forget as self-contained seeds of potential that we need nourishment to prosper.
The wonderful thing about springtime is that it outwardly reminds us that it's time to peak within.  Even the spring cleaning task of washing the windows can bring awareness and offer an invitation to clean off the schmutz that cloaks our potential and conceals our true essence.
And yet it's in sharp contrast to the dark muck of the sustaining winter that we appreciate the bright, beautiful blossoms of the springtime flowers.  So welcome the full spectrum of experience. Let the supportive sunshine in and be the bright bulb that you are!
Yoga is an excellent way of flourishing within.  We practice the art of gardening every time we step on to the mat.  We learn how much water and sunlight is needed for optimal growth, as we root ourselves more fully into the fertile soil of embodiment.  We learn which weeds are impeding probable germination, as we skillfully align our sprouting selves with the support of something larger than ourselves.
Embrace this change in season as impetus for your inner growth.  Carve out space in the flower patch your heart, so that you thrive with your own organic luster and celebrate true multiplicity of plant life.  After all, more diversity in the garden brings about more stability to any ecosystem.
Find Cat at NOLA Yoga