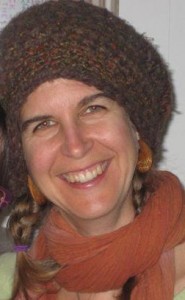 Denise Holden is a dear friend of mine, and a very special person with a unique view and inspired approach to self healing. You can find her contributing occasionally to this blog, and here you can get a better idea here of who she is and what she offers.
---
Denise Holden
Plant Spirit Healing Practitioner
Registered Holistic Nutritionist
Reiki I & II Certified
Integral Yoga Instructor
Yoga for the Special Child
Descriptions of Services
Distance Healing
We are all connected to a universal energy field, the web of life. As one part of the web is influenced, the whole web and all that is connected to it, becomes changed. This is known as the science of holography. From the perspective of the healer, energies are transmitted to a person, identified by their unique signature frequency. Scientific experiments have shown that energy has the ability to bring about healing and transformation from a distance. All of life is consciousness and consciousness is not limited by space or time.
Distance healing, can be very effective, it often helps us get out of our own way!
Plant Spirit Healing
A Plant Spirit Healing Practitioner works with the energy anatomy to reach core issues of disease:going beyond symptomatic treatment to effect lasting change. In this whole person approach Plant Spirit Allies are called upon to re pattern discordant energy bringing healing to heart, body, soul and spirit. -Pam Montgomery
The Chakra System
The chakras are the major 'organs' of the energy body which transmit information from our surroundings and experiences into our physical body via the neuroendocrine system. The seven major chakras each correspond with a particular endocrine gland, where the information is dispersed throughout the body.
As we progress through our lives, particular experiences tend to either over activate or suppress the function of certain chakras. This greatly affects not only our capacity to process our experiences clearly, but contributes to the stagnation of our spiritual growth and the perpetuation of mental and emotional patterns not in alignment with our deepest Truth. Clearing the chakras helps us to move through 'stuck' spots in our lives so we may progress on our path. It typically involves letting go of things that no longer serve us to create a space for that which does to enter.
Soul Retrieval
Soul Retrieval is a shamanic technique, intended to restore "lost energy", soul part(s) that left to survive some form of trauma. Trauma is relative, ie can be anything from being made fun of as a child, accidents involving the physical body, any and all forms of abuse. When the lost soul part is retrieved what is returned is the vitality and true essential nature of the client, not the trauma.
"The work we did together was indeed the beginning of a long healing journey. I feel the love of the earth supporting me through the plant spirits that have chosen to guide me. I have found the strength to proceed because of that love. I could not have come so far so quickly without you showing me the way. It has been a blessing." T.L. Vancouver
HEALING OFFERINGS
Plant Spirit Healing
Sliding scale $40-80/ hour
A Plant Spirit Healing Session may include:
Chakra Balancing
Removing Energy Blockages & Intrusive Energy
Soul Retrieval
(for more info, see descriptions)
Nutrition and Healthy Lifestyle Consultation
Sliding scale $60-100/hour+
session length can vary
Nutritional Assessment and a personalized program to suit your specific nutritional needs and lifestyle.
Plant Spirit Healing &
Nutrition/Healthy Lifestyle
Consultation
Sliding scale $85.00-140.00
Sliding scale guide: if you own your own home and travel you would choose to pay toward the high end, if you are challenged to buy necessities, you would pay on the low end. This helps healing be affordable for all!
open to trade/barter
Contact Denise: elementsofself@gmail.com (604)880-3367