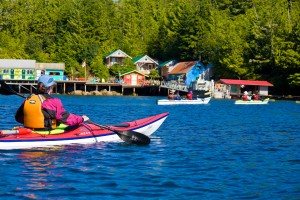 I've been asked to teach yoga as part of a kayak and yoga retreat in the beautiful ocean north of Vancouver Island! What an excellent combination – nothing like being IN the ocean to really align with the Current of Grace.
We need a certain amount of confirmed people this week to make it happen, so if you're interested in this once in a lifetime opportunity, please don't hesitate to book your spot for a week in heaven.
Here are the details:
God's Pocket Resort lodge-based sea kayak tour with yoga July 5-10, 2010
Why this trip: The resort offers a first-class way to paddle British Columbia's pristine northern waters. Outfitter has exclusive use of the 7-room resort with private chef in God's Pocket Provincial Marine Park, BC Canada for guided sea kayak tours. On this departure only, professional yoga instructor Katrina Ariel (that's me) will lead daily sessions included in the price!

GOD'S POCKET, BRITISH COLUMBIA — For those in search of the ultimate in wilderness kayaking without having to camp, Sea Kayak Adventures, Inc is offering six-day lodge-based sea kayak trips in British Columbia's remote northern waters that should indulge the most discerning of travelers.
The journey begins with a boat ride past snow-capped mountains, forested islands and the protected waters of Queen Charlotte Strait before arriving at God's Pocket Resort – a rustic island lodge located in the heart of God's Pocket Provincial Park just off northern Vancouver Island. Guests stay in one of seven rooms providing all the amenities of home and breathtaking ocean views, and our private chef prepares all meals.
Guides give instruction in sea kayaking basics, then lead daily paddle excursions through the protected waterways and island archipelago that make up Canada's newest marine park pointing out whales, porpoises, seals, sea lions, otters, eagles and diverse underwater life.
God's Pocket Provincial Park is also a world renowned cold water SCUBA spot endorsed as truly unique by Jacques Cousteau, and we can see this invertebrate diversity in the crystal clear waters and tide pools right from the warmth of our kayaks. Guests can take a day off from kayaking anytime, or follow one of the hiking trails into the island's lush rain forest.
At the end of the day, paddlers return to the resort to enjoy a hot shower in their room, yoga on the sundeck and a fabulous dinner featuring locally caught seafood (try the smoked salmon), fresh baked goods and regional wines in the resort's main lodge. Watch the sunset and relax in an outdoor hot tub on a waterside deck. Then sleep blissfully in a comfortable bed and an amazing blanket of quiet.
Other enjoyable activities include natural history talks, a campfire on deck, stargazing and a short night paddle. Don't forget to greet the resort's resident octopus in the cove out front. People of all experience levels are welcome. This trip is also perfect for family reunions and charters. We've even had people become engaged and celebrate milestone birthdays here.
Cost $2395 Canadian includes 6 days/5 nights' lodging (double room with private bath) at God's Pocket Resort, meals prepared by a chef, boat transport, all kayaking equipment, guides, kayak and daily yoga instruction. 12% HST tax and airfare to Port Hardy is not included. Excursions are limited to just 12-14 guests. Novices welcome!
To Register, call Sea Kayak Adventures at (800) 616-1943 or email info@seakayakadventures.com Please mention that you heard about the retreat on my site.