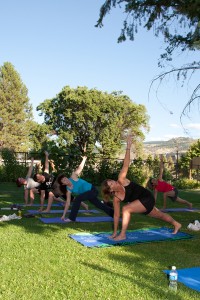 Please fill out this short form if you'd like to make the 5:30-6:30pm Summer Yoga and Fitness classes happen. Classes would be a fun blend of challenging yoga and fitness for ALL LEVELS. You'll get a great workout AND beautiful yoga bliss.
Please only register if you are willing to submit payment when we confirm the class is a go. Thanks for respecting this and for your much appreciated input!
Details:
Dates: 4 week session runs June 18 – July 11
Time: 5:30-6:30 PM Mon and Weds
Location: Outside, rain or shine, on the beautiful, shaded grass area beside the Yacht Club (1140 River St downtown).
Pricing Options:
$96 –  for all 8 classes *BEST VALUE*
$78 – 6 classes in 4 weeks (you can miss 2)
$60 – 4 classes in 4 weeks (one class per week)
Prices do not include HST.