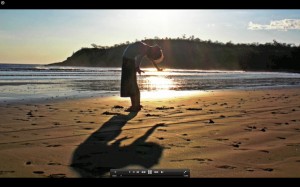 Music moves us in so many ways. Mantra in particular can help us to find ourselves again.
How you resonate, or the vibration you feel, can be a conscious choice. The more you choose your vibration consciously, the more you can influence life to unfold in the direction of your choosing.
For instance, if you continually bring yourself back to love, peace, joy, kindness, and the like, then these are the influences that will most often show up in your life. This is the "thoughts become things" theory in practice on a moment to moment basis.
But sometimes it isn't so easy to stay in a pattern of love and joy, is it?
That's where music can be so very helpful.
When you listen to (or create your own) music that brings a resonance of light and goodness, it is so much easier to bring the harmony you desire into your own vibration and surroundings.
So, without further ado, here is a music video that has both music and images to help brighten your heart and your day!
If you enjoyed this, please share! You'll help others grow the feelings of love and peace in their own hearts (and therefore the world)!

This song is on my album, "Gratitude." Click on the image to the right to purchase on iTunes.