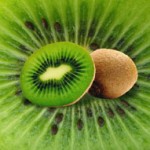 Okay, I've got a new favorite.
This morning's green smoothie developed from whatever I could find to put in the Vita Mix. Since I'm visiting my parents at the moment, and my dad brought home some kiwis, I thought I'd throw one in.
At some point this summer I ate my first kiwi with the skin on. I know, if you haven't done it this seems very strange, but it doesn't taste bad at all, and gives you more fiber and other goodness. So for my smoothie this morning all I did was cut the very tips of the kiwi off (the hard bits) and toss the rest in.
Kiwi is very low on the glycemic index (meaning it's less likely to spike your blood sugar and insulin levels). It also is high in potassium and vitamin C, as well as other minerals and vitamins.
This green smoothie, like most, gives you an awesome source of antioxidants, vitamins and minerals, plus a decent amount of fiber and protein. According to my estimated calculations using nutritiondata.com, this smoothie delivers about 10g fiber and 6g protein. Plus all the chlorophyll from the spinach, which is super healing and has anti-inflammatory properties.
And the best part? It tastes amazing!
Recipe:
Water (1.5 cups)
Spinach (a few good sized handfuls)
1 whole kiwi
1 small banana
1/2 cup blueberries
Remember to blend the greens well before adding the fruit so you get the most nutritional benefit.
Enjoy!
Let me know if you liked it or if you have variation ideas by commenting below.