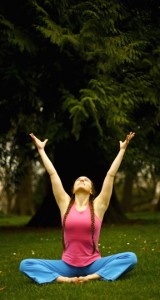 I offer private and semi-private yoga therapy sessions in Kamloops. Read on to find out more about this effective and empowering method.
About Yoga Therapy
Healing occurs when you re-align your body with its optimal blueprint. This is the natural alignment of the body in its healthiest state, full of vitality; the highest potential of your individual self, and your birthright.
It works like this: when the body is in optimal alignment you have maximum range of motion, strength and stamina. Circulation flows bringing nutrients and life into all areas, and all parts of the body work together as one. Thus, the body heals itself, which is what it is designed to do!
During a Yoga Therapy session a combination of manual manipulation is used with yoga poses to teach your mind and body how to move toward your personal optimal blueprint.
A one on one session allows me to highlight your strengths, and gently reveal your tendencies so the holding patterns in your body can be addressed. You build awareness and the ability to align with nature, and healing happens.
Using this form of Yoga Therapy you can learn to remove the cause of your pain. It has been a very effective healing approach for thousands of people.
Upcoming Semi-Private Yoga Therapy Sessions in Kamloops:
Please check back for semi-privates, however Private sessions are available. See below for details.
Find out what makes semi-privates such a great choice in my article on Yoga Therapy: Freedom from Pain.
Feedback from Yoga Therapy Semi-Privates:
"I'm feeling great! I love the way you make everybody feel comfortable, and I learned a lot by watching others."

"Your approach is knowledgeable, helpful, and positive! The individual hands adjustments without pain were welcome – helpful to feel where the body should be."

"Very committed. Easy to understand. Pleasant and enlightening."

"Very clear instruction. I would often do 20-30 minutes of physio neck exercises for some relief – this was quicker with more relief!"
Some of the things Yoga Therapy can teach you:
How to stretch safely
How to get out of bed without pain
How to avoid carpel tunnel syndrome
How to strengthen weak wrists and ankles
Things you can do to avoid getting headaches
How to align to alleviate neck and shoulder pain
What muscles to stretch to relieve lower back pain
How alignment and circulation can relieve and even reverse arthritis
And much more!
I have trained extensively with many of the world's most skilled and highly respected yoga therapists.
To inquire about a Yoga Therapy session, contact me.
Pricing for one hour: $100 for an individual session, $60 per person for Semi-Private classes. All sessions include a handout and home practice specific to your needs so you can continue to benefit from your investment.
Cancellation Policy:  Because there are limited spots available, there is a cancellation policy. If you cancel with more than 48 hours notice, the fee is $30. If you cancel with less than 48 hours notice, you will be charged the full price.