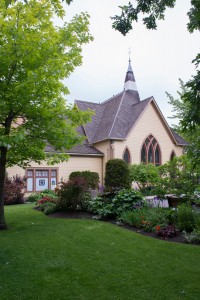 The energy of a place has a lot to do with the experience you have there.
That said, you can meditate in the middle of a sidewalk, or do yoga in the airport. Been there, done that. It can be fun, an excellent challenge, and an extraordinary practice.
However, the depth of opening and feeling you have access to when you are in an ideal environment
is very meaningful.
St. Andrews on the Square feels like a sanctuary. It feels safe, peaceful, spacious. It has a definite beauty that goes beyond the arched ceilings, stained glass windows and courtyard garden.
---
"I love practising at St Andrew's. I find the sacred environment, the spaciousness, and particularly the stained glass lifts me to a higher level. There are flowers at the door.

The city is just outside, yet it's serene inside. There are many photos in the halls, showing couples who declared their love, formally and publicly, in this space.

It's scented with positive intention." 

"It's absolutely suited to peace practices."

– Tara Leduc

Each student finds their way to the right place for their journey.
It's a great idea to try out many different classes and locations. You'll learn something from every class, and be able to listen to your own intuition to find the ones you want to attend on a regular basis.
You are invited to include the yoga sanctuary at St. Andrews on the Square in your yoga practice here in Kamloops. It offers a peaceful, sacred, joyful place to play and relax.
Come try a class, and let the experience speak for itself.
---
What is the sanctuary at St. Andrews on the Square?
Is it another yoga studio?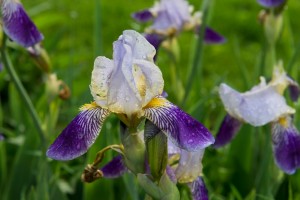 The yoga sanctuary isn't a business.
It's an idea.
It is a beautiful and peaceful place to breathe, move, de-stress, show up for yourself, and enhance your life in a very real, wonderful way.
My intention with this space is to get back to the most essential teachings of yoga and serve those who attend classes as fully as possible. Many teachers have used this space over the years, and I have been teaching other classes here for a while. It feels good to have all of my classes in one place now, and in such a beautiful space!
No, it isn't a studio.
The difference is that each teacher who operates in this space does so independently.
At a studio you can buy a package, show up and take whatever class works for your schedule. That's excellent! There are wonderful things about studios.
Here, you pay each teacher individually, which works very well when you want to focus on studying with one person, or commit to a certain class time that works for your lifestyle. Or, better yet, register for progressive sessions where you continually build on the knowledge you receive in each class.
From the teacher's perspective, there is also a real need for a space that provides an ideal environment, where they know they can teach freely from their own wisdom and style while having direct access to build relationships with their students. The teacher/student relationship is often more intimate and supportive this way.
And, sometimes studio-teacher relationships can become strained. It can create a lot of pressure and take away from what the teacher wants to do: teach exceptional yoga.
Other times studio-teacher relationships can be absolutely wonderful! Yet if a teacher wants to teach during a time that is already taken, they have to find another space.
Again, there are great things about studios, and I support every studio because I fully believe there are more than enough people for all of us to serve. Each student will find the best classes for them, and each teacher will find the best places for their offerings.
But even in the yoga world there is a need for a safe haven. Not just for the students, but also for the teachers. For me, this is part of what the idea of this space creates.
A sanctuary.
I don't own the space or have an exclusive lease on it. Anyone can teach here. "Kamloops yoga sanctuary" isn't a business name, it's a description of what it feels like. My intention is to support and work together with other teachers on this. We'll see how that evolves . . .
My vision for this space is to have a collective of yoga instructors sharing access to gorgeous new props and a website, as well as a positive presence in the community that is stronger because we're working together.
And, at the same time, each instructor can function independently and take payment directly, which brings the potential to receive better compensation than they generally would from a studio. It can be hard to make a living teaching yoga, and I believe that the service we provide is worth a great deal. That doesn't mean we need to charge the students more, but I'd love to help create a way for instructors to take home more income from their classes at the end of the day.
Why does all this business stuff matter?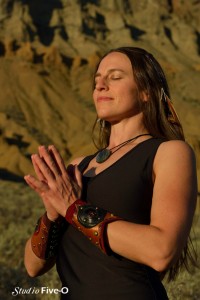 Well, it may not to you, and that's okay.
If you just want to do yoga, that's great! I'm all about making things less complicated so you can enjoy the moment more fully.
That said, I also think being transparent about things is good. I believe it can be helpful to know more about what's behind all these great classes.
Always, there are good people. Yet we're still talking about people here, and the yoga world has just as much space to improve on communication and relationship skills as any other, which leaves room for personal and professional growth.
Creating this space is a choice to align with what feels right for my teaching and the kind of environment I want to create for students, as well as other teachers.
It's not about competition, and I want to be very clear about this because I think all yoga teachers (and instructors of other modalities) are doing it for the same reason:
We want to help people. We love what we do!
Again, there are enough people to serve for every teacher and space to prosper. The ability to guide an experience of connection, release, strengthening, surrender, and coming back to what is meaningful in the heart of each individual—this is a valuable service!
There is limitless potential in how much we can help people. Every space, teacher, and class has something different to offer.
And each time you roll out your mat to practice, no matter where that is, it makes the world a better place.
Namaste
Gratitude to Nat Anfield of studiofive-o for the photos!