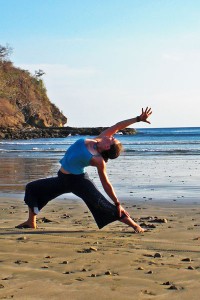 I am getting EXCITED about coming back to Kamloops and offering a wildly fun and profound line-up of yoga and fitness classes! I'm just finalizing the schedule but thought I'd give you a sneak peak.
As much as I adore New Orleans and really feel at home here, there's nothing like BC, and I sure am looking forward to seeing my friends and students in Kamloops! I can picture watching the sun rise from up on the hill at Let's Move Studio, and swimming in the river in the afternoon. I can almost taste the decadent raw treats at The Art We Are, and feel the warm air on my skin riding my bike to Riverside Park.
Oh yeah, one more month to go. Yet, I'm making sure to really enjoy my time in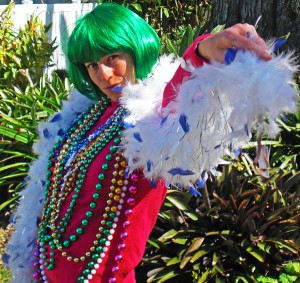 New Orleans while I'm here. I'm working outside in the warmth that comes earlier down south, enjoying my family, and getting my body in wicked awesome shape by going to a boot camp each morning.
It's also been so completely wonderful to have access to Certified Anusara® yoga instructors on a consistent basis. And that's good for you too, because my teaching has continued to evolve.
One of the things I'm most excited about adding to my class schedule is a Yoga Fitness Boot Camp for Women. It will be up at Let's Move where the morning view is breathtaking as the sun shines down on the valley.
Read on to find out about the boot camp, public, semi-private yoga classes and events I'm offering.
What is this Kamloops Yoga Fitness Boot Camp about?
It's about FEELING ALIVE! And getting in super-star shape, whatever your personal best is (which is always a progression, of course).
I've been feeling so incredible and noticing a real change in how I look because of the boot camp I'm doing, so I've designed a program that focuses on fitness which is influenced by the alignment, intention, and benefits of yoga.
The boot camp program will be part circuit training (lots of different fitness exercises), and part strengthening yoga to balance out and help your muscles develop in the most optimal way. Because I am who I am, you'll also get alignment instruction that you wouldn't get in most fitness programs, and I'll weave a tinsy bit of intention and meaning into it –  'cause that's what I do.
The boot camp is just for women. Sorry guys. It's a girl thing. We have a thing about working out together. Nothing personal.
To learn more about the boot camp and enter to win a free week of boot camp, check out this page: Kamloops Yoga Fitness Boot Camp for Women
When am I starting?
Monday, May 3rd is the first class.
Besides the Yoga Fitness Boot Camp, the rest of my yoga schedule will include: morning classes, one evening class (still working on that one), and semi-privates (see below).
PLUS you can look forward to Sunshine Sundays and Rockin' Saturday practices over the months to come. I'll also be getting together a monthly Satsang with yoga philosophy, meditation, and chanting. AND there will probably be a Yoga Therapeutics workshop at some point – most likely September.
Stay tuned for a full schedule soon. I have a tentative schedule posted on my Kamloops yoga classes page if you want to see what I've got so far for dates and times.
Semi-Private Yoga Classes In Kamloops
One of the other new programs I'll be starting is having semi-private yoga sessions. This is where you and a few friends get together to have individual instruction from me. 4 people is perfect, but it could be slightly smaller or larger.
My Yoga Therapy private sessions have been so well received and rewarding for people. The Semi-Private classes give me an opportunity to work with more people on an individual basis as my time becomes more filled with private requests.
The benefit to you is that you get to discover how much you learn from each other. Often the patterns and mis-alignments you're dealing with are similar in your friends. Even though everyone is different (and you'll still get very specific one-on-one instruction) it's amazing how much we can learn from watching other people. Then you get to see HOW I work with precise conditions, and this deepens your understanding of how to access the optimal alignment of your own body.
That, and it's fun to share the whole experience with friends. You'll laugh together, AND you'll be more likely to continue the practices I give you because you'll support each other.
So you might want to think about getting a small group of friends together to have access to the therapeutic and advanced yoga skills I can offer my private clients.
Will I still offer privates? Yes, I will do my best to continue to fit private sessions into my schedule, however I encourage you to consider semi-privates if this is at all realistic for you.
How long am I staying in Kamloops?
Well, if you know me, you're probably laughing at that question because I never can pin down my plans.
I try, believe me. It's just that the universe likes to swirl and paint serendipity and surprises in my life, which means that my plans keep changing. It's part of my own training in going with the flow.
Right now, all I know is I'll be teaching through September. Come October, I may be staying in Kamloops, or I might be in Hawaii. Or Nelson. Or Thailand. Or on a road trip to California. Or wherever else my heart is called. That's just how I roll.
But don't worry about that. Let's just enjoy the time we have together, shall we?
Feel free to leave a comment below if you have a question I didn't answer (I'll reply and help you out), if you have anything else to add, or if you just want to say hi.