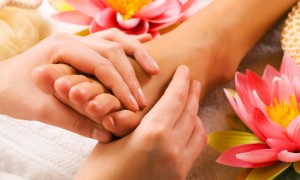 This month we're starting something new – prizes for dedicated and hard working boot campers, as well as yoga students!
This will be an ongoing thing for each boot camp and yoga classes, so when you come to consecutive sessions you have more opportunities to win!
Click here to learn more and register for Yoga Fitness Boot Camp, or check out my Kamloops Yoga Class Schedule.
The Boot Camp and Yoga Bag
Each day you show up to camp, write your name on a little slip of paper and put it in the boot camp bag. Every Friday one name will be drawn to win a prize!
I'm also going to do the same thing for my yoga classes, with the difference that the prize will be drawn once a month. (UPDATE: I've decided I really like the idea of giving things away, so the yoga class gifts will likely be every week as well, depending on the amount of prizes I have available.)
Prizes include:
A pedicure from Pink With Envy
A free Semi-Private Yoga Therapy session with Katrina
A massage or reflexology session
Free meals at wonderful local restaurants
And more!
Because you get to put in your name each time you come to camp and class, the more often you show up the higher the chance of winning a prize!
If you have a business and would like to offer your service or product as a prize for the wonderful women who come to camp and my spectacular yoga students, please contact me.
The Grand Boot Camp Prize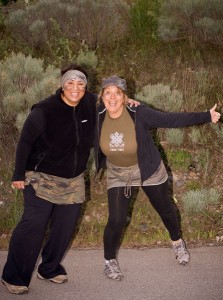 Building muscle and losing weight isn't easy. It takes hard work and commitment to taking care of yourself. It takes discipline to eat well. You really have to believe in yourself.
The Grand Prize goes to the person who loses the most weight and/or inches – the person who physically undergoes the most definite transformation. If you lose more weight, body fat, and/or inches than anyone else in camp, you will win the next boot camp absolutely free!
Of course this means you have to come to Pre and Post Evaluation, as the measurements are done at that time. (There is usually an opportunity to weigh in after camp on the first and last day as well if you absolutely can't make the scheduled evaluations.)
I'm proud of every single person who comes to camp. AND I also want to offer something to the person who makes the biggest change in their body through their dedication. This isn't to belittle the efforts of everyone else, because even the slightest change can be huge.
Think of this reward as if all of us in the group are raising up on our shoulders the woman who has come the furthest in her journey.  A grand honouring of us all through the celebration of what one person has done.
I hope you're excited as I am about these prizes, and that it helps you stay motivated and have fun in yoga boot camp.