Weekly Prizes for Yoga and Fitness Super Students!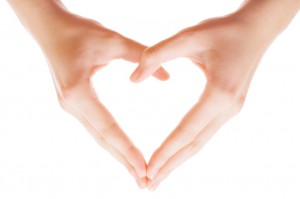 Okay, I have to tell you, I'm overjoyed at the generosity of this community. I've been asking local Kamloops business owners if they want to donate prizes to encourage my Yoga and Yoga Boot Camp students, and the response has been amazing!
Read about the winners here: Kamloops Yoga Prize Winners
What is Kamloops Local Business Love?
Basically it's a way to raise awareness of the richness and creativity of this community. Each week I'll be drawing TWO prizes (one for my yoga class students, and one for my Yoga Fitness Boot Camp students).
Every prize has been given freely by the wonderful people of Kamloops who are dedicated to serving you with their passions and talents. I am grateful to LOVE my own work, and so inspired to be surrounded by lots of other people who work hard to live their dreams.
Find out more about these local businesses in the Prize section below, and please go try them out if you're drawn to them – no need to wait till you win the prize to go. 🙂
Also – if you're a local business owner and would like to participate, please contact me.
How Do You Win?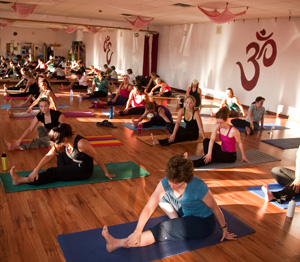 Every time you come to yoga class or show up early in the morning for Yoga Boot Camp, make sure to put your name in the Super Student Bag. I'll draw the prizes each Friday and post the winners here. (You'll also be contacted directly if you've won a prize.)
The more often you come to class, the more chances you have of your name being drawn. I'll keep all the names in the bag for the entire month's draw, and then start over in the next month.
If you've never been to my yoga classes, you can start as a beginner at any time.
Here are your yoga class choices: Kamloops Yoga Schedule
Please pre-register for Kamloops Yoga Fitness Boot Camp (Women Only)
Rules and Guidelines (There's only 3)
Tip Well! When you get a free massage or lunch, you have a chance to return the generosity with a freely given gratuity. In the service industry, this is always much appreciated.
You can only win once a month. We want to share the love with as many Super Students as possible.
Tell us what you think! We want to hear about your experience. When you've redeemed your gift, please write a little bit about it – it can be as simple as "Loved it!" or you can tell us a whole story if you'd like. This way you offer those of us who didn't get your gift to live vicariously, and also decide if maybe we want to try it out ourselves.
The Prizes!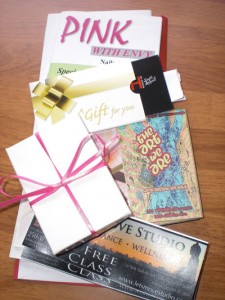 Local Business Love goodness abounds! Check out these awesome gifts that you can win – and you might also consider giving these gifts to others or yourself…
Practitioner Gift Certificates
Pedicure from Pink With Envy Nails & Esthetics: These ladies are personable, professional, and use natural, high quality organic skin care and nail products. Their gift certificates even come in a little box with chocolate! (807 Battle St. 374-7462)
30 minute Ohm Unison Balancing Treatment from Acupuncturist Jennifer Larsen: Okay, I'm biased. I love this woman. Not just because she's an amazing friend, but also because every time I go to her for a treatment, I feel taken care of and transformed in a positive way. Jennifer is one of the most skilled and experienced healers I know.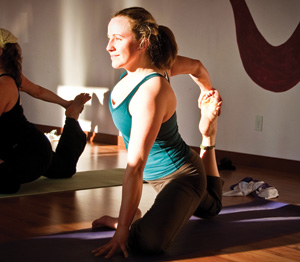 This treatment doesn't involve needles, so it's a great way to benefit from the wisdom of acupuncture if you're new to it and maybe intimidated by the process.
Based on sound vibration as a form of energy medicine, an Ohm Balancing session uses tuning forks which are precisely calibrated to planetary vibrations. The specific application of the forks when applied to acupuncture points, chakras, and pain locations, accesses and balances the energetic core of the body in a noninvasive way. (Jennifer Larsen, 376-3070 – Vital Point Kamloops Acupuncture)
45 min massage (worth $75) with Jenn Johnson: As a registered massage therapist Jenn's goals are to educate you on how to bring balance back to your body and to work with you towards achieving your own goal whether it's recovering from an injury, training for a sport or just learning to relax.
Massage therapy affects nearly every system in the body. It relaxes muscle tissue, increases circulation, decreases stress, aides in elimination of toxins and can be beneficial for a number of common issues such as tension headaches, whiplash, carpal tunnel syndrome, tendonitis, low back pain and many more. (Jenn Johnson – info@jennjohnsonrmt.com, Book through Let's Move Studio at 372-9642)
60-90 minute session of Emotional Freedom Technique with Cara Beckett: Also known as EFT or Tapping, this is great for reducing stress, dropping old emotions or traumas, or preparing for something a person might be nervous about. Also great for test anxiety, dealing with the boss, etc – anything that makes a person anxious. Also useful for weight loss and preparing for meditation.
Wellness & Personal Development Coach Cara Beckett primarily deals with emotional and spiritual health, although with a background in weight loss, health promotion and body work. She has more than 1000 hours of training in various modalities ranging from Hypnosis, NLP, Coaching, Core Belief Engineering, Emotional Freedom Technique, Touch for Health, Polarity Therapy, Source Synergy and more. Helping individuals to move towards their life goals is Cara's passion! (Book appointments with Cara through Let's Move Wellness at 372-9642 or carajaz.coaching@gmail.com)
1 Hour Reiki and Chakra Healing Massage with Shirley Bradley: Chakra healing with small chakra crystals, Reiki, sound and Aromatherapy completed with a massage along the sides of the spinal column. (Appointments can be made through Let's Move Studio at 372-9642).

Yoga Therapy Semi-Private Session with Katrina Ariel: That's me! I occasionally offer semi-private yoga therapy focused on bringing freedom to specific areas of the body – i.e. neck and shoulders, lower back, knees and feet.
Click on the link to find out more about Kamloops Yoga Therapy.
Lets Move Studio is giving away 10 and 5 class cards, as well as a 10 session pass to the Infrared Sauna! Check out the Let's Move Studio website to learn more about this center of the Kamloops community.
Yoga Fitness Boot Camp Session: One hard working camper will win their next boot camp session absolutely free – a value of over $250! This Grand Prize goes to the camper who makes the biggest transformation in their lifestyle and body during the current camp session. Learn more about the program here: Kamloops Yoga Boot Camp.
30 minute Sound Healing Therapy Session with Karen Houghton: Get ready to experience the sounds of the Universe!  During this 30 minute session your body will relax and feel stress-free.  The Acutonics Healing System uses tuning forks, which are mathematically and scientifically calibrated, and are applied to acupuncture points.
Each tuning fork has a specific vibratory resonance with its own unique properties and frequency that accesses the body's energetic system in a non-invasive way promoting wellness, unity and balance.  It provides access and healing to the physical, emotional, mental and spiritual parts of Self that are often out of alignment as a result of our busy lifestyles.  As sound travels 4 times faster in water than air, our bodies are natural resonators for sound.
Other benefits of Acutonics Sessions:  Restores energy and vitality. Helps relieve pain.  Removes energy blockages bringing the body into balance and harmony.  Assists the body in clearing itself from toxins. Releases limiting patterns and beliefs including traumatic and cellular memories. Supports the immune system. Raises the vibrational frequency of the body.  Accelerates the body's self-healing. So, wear comfortable clothing and come and allow yourself of soak up these amazing harmonic vibrations!
Restaurant Gift Certificates
The Art We Are: This is one of my favorite places to hang out and get a meal, as it's always home cooked from wholesome ingredients. Funny enough, our studio used to be in this same space. The atmosphere is like home, with couches, games, instruments, and books. AND it's an art gallery! A truly unique Kamloops experience. They also have decadent desserts, handcrafted teas, and are open late! (322 Victoria St – Upstairs. Open Mon-Sat 9am-11pm. 828-7998)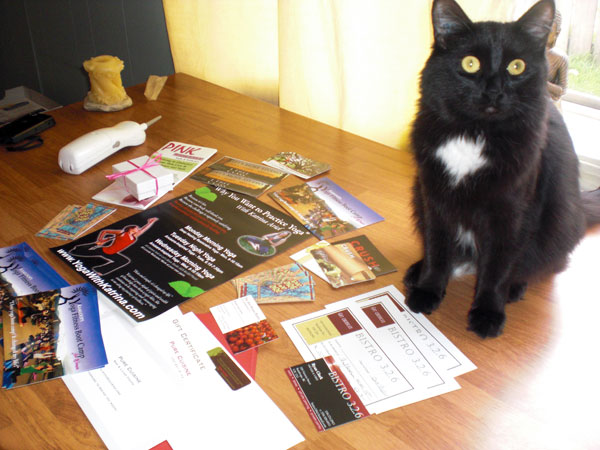 Bistro 3.2.6.: Owner and Chef Ryan Clark gave me a few gift certificates to invite Super Students to his charming restaurant. I love the elegant simplicity of both the place and the menu, which is fresh and always made from scratch. They also do tasty and creative catering, have great lunch and dinner menus, and are available for private parties. (326 Victoria St. 374-2913)
Crush on Victoria Sauté & Grill : This is a wonderful new restaurant, run by professionals who have worked at some of the best restaurants in Kamloops. They got together and have created a classy yet chic atmosphere with a scrumptious and high quality menu. The prices are reasonable and they do their best to source their ingredients locally. A great place for a date – romantic or otherwise. (650 Victoria St. 372-1980)
The Hot House Bistro: We really are blessed with some great restaurants here. There was a time when I had a veggie burrito at the Hot House nearly every other day. I love the choices on the menu, and how welcome I feel when I'm there. Check out their full menu on the Hot House Kamloops Restaurant website. (438 Victoria St. 374-4604)
Pure Cuisine Raw and Living Foods is a brand-spanking-new and totally unprecedented restaurant on Victoria St. It's a raw food take-out bar, with great treats and full lunches. "Raw food?" you ask? Yes, there's more to it than carrot sticks. Check out their menu on their website: Kamloops Raw Food. (442 Victoria St. 851-8194)
Stay tuned for more prizes, and make sure you come to class to win!