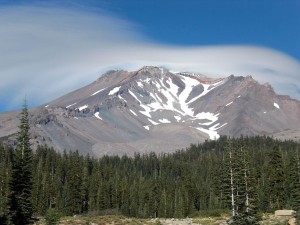 As I write this, the sky is a perfect blue above the legendary Mt. Shasta. This enormous mountain was created as a volcano, and is said to be a portal to different dimensions, an incredible place of healing, self discovery, and transformation.
It is very sacred, and people make pilgrimages here from all over the world.
My partner, Casey and I are here for the first time. We came down for a workshop on 10-10-10 (October 10th, 2010). I'll try to give you the story in a nutshell here.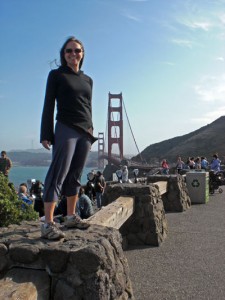 I road tripped down from Kamloops, BC on my own, taking 3 days to get to San Francisco where I picked Casey up at the airport. It was a perfect day as I drove into the Bay area with my window down and the radio up. I was singing classic rock and dancing in my seat. The American dream of freedom on the road. Really a great day.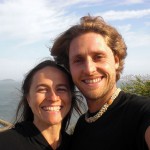 I finally left SFO airport with my man once his delayed plane came in and we headed out. After crossing the Golden Gate bridge, we drove 5 hours back up North to stay with Casey's relatives just north of Mt. Shasta City. They have a lovely house with a spectacular view of Mt. Shasta, and every morning I've had the privilege of watching deer graze and play on the lawn.
Mount Shasta: Panther Meadows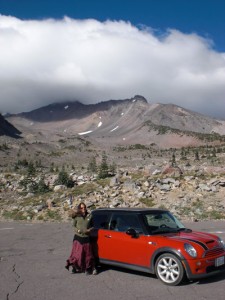 Casey and I have been up the mountain quite a few times. There's a road that winds up to the tree line at about 8000 feet of elevation. Mt. Shasta itself goes up to 14,000 feet! We haven't gone that far up.
There are sacred sites all over the mountain – basically anywhere you are you can tune in and feel the energy of the place – but some areas are stronger than others.
One powerful site is Panther Meadows, where a spring bubbles out of the mountain.  The water is pure and full of prana (life energy). It feels so good to drink water straight from the source!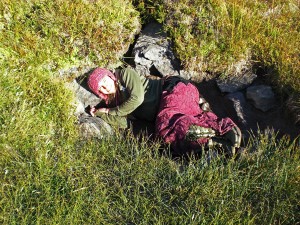 I found a little hole in the ground and sat in meditation there for a while, then curled up on the earth. I felt so content and child-like. The whole area made us quiet and peaceful. A great place to connect with nature and your true self.
We met other adventurers in the camping area of Panther Meadows who invited us to stay for dinner and ceremony. We had to go down the mountain, however it was really interesting to learn how many people from all over the world were called to the mountain for this particular time. All the people we met there were so welcoming!
10-10-10
This weekend we were part of a group who gathered to attune to the energy of this particular time. There is a lot of transformational energy on the planet right now, and this date was of great importance.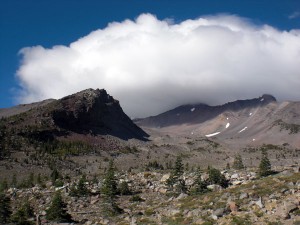 Basically there are points of power that are coming online in different parts of the earth. It's maybe a bit out there for many people, so I'll just explain it as a grid of energy that is becoming more and more powerful in order to help us all heal; each individual and the planet.
This energy is open to anyone, but many people aren't open to it. What that means is that if you don't tune in, use your awareness and intention to tap into these healing and elevating energies, then that's okay.
But if you ARE wanting to take advantage of the very loving, pure, high energy that is available at this time, there are so many ways to do this.
If you feel drawn to tapping into these energies, you can start by just intending to do so in meditation. See what you feel, what images come through, and what messages you receive from your higher self and guides. It's a good idea to call in your guides and ask them to help you connect and clear anything that you no longer need when you do this.
Again, much of what I'm learning about these new tools and transformational energies is far out of the comfort zone of many people. I'm discovering information about the fall of human consciousness long ago, ancient civilizations, star beings, higher dimensions, powerful crystals and temples that are activating, changing our human DNA, and much more. It's like diving into an outrageously fascinating yet very real mystery!
If this isn't your thing, no worries. It doesn't have to be. But to me it feels good, true, and helpful in my own evolution and the healing I so desire for this beautiful planet.
Saturday and Sunday we spent much of the day in meditation inside a pyramid that has been constructed on Mt. Shasta. The pyramid amplifies energy – pyramid energy can be quite intense, actually. This one is created very similarly to those in Egypt.
The meditations were very powerful and I had many inner journeys and insights. I've come away with tools that I'll continue to use to develop my own abilities and super-charge my spiritual and self evolution.
Hiking Black Butte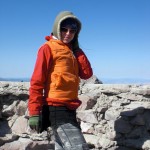 After the weekend blast off of energy, Casey and I hiked up a smaller mountain at the foot of Mt. Shasta. It, too, has powerful energy and looks to me like it was a smaller volcano.
Black Butte is its name, and it was about 1600 feet of elevation at a steady grade. The path wound around the mountain like a big spiral (inward spiral on the way up, expanding spiral on the way down.)
It felt great to move and challenge my body, but WOW was it windy at the top! I actually crawled at the very top ridge because it was only a few feet across and a steep drop on either side. I didn't want to be blown off the mountain!
At the very top there's a square bunker made from stacked rocks and a bit of concrete that shelters from the wind. There was a happy face painted on the rock at the center.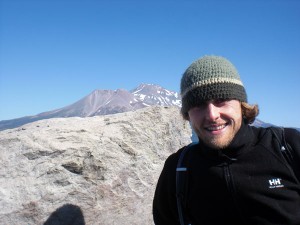 Casey and I sat up there, listened to the wind, the whispers of the mountain, had a rest and a snack.
But the wind was pretty violent, and, as much as I envisioned an energetic shield around me, I seem to need to work on that a bit because I just felt like I needed to get off that mountain!
Once we got off the summit and out of the most powerful wind I felt better. It was a great day and an excellent hike.
What's Next?
Casey and I spent today doing separate hikes to sacred sites on Mt. Shasta. Tonight we'll pack the car and get ready for the trip home.
Next stop: The Redwoods!
The mighty Redwood Trees are great protectors and wise spirits of the West Coast. Their energy is such a blessing to this planet, yet in only one generation they have nearly been logged to extinction.
The presence of these amazing trees is beyond words. I have been through them once and am very grateful to be heading back to these wonders.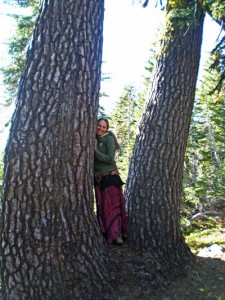 I have such a strong connection to trees. They are gentle, patient, and the lungs of the earth. My heart holds a deep respect and high honor for the trees.
And I get to go hug some of the biggest trees on the planet!
Connecting with trees is a great way to heal yourself and get grounded. Hugging a tree can help you quiet a troubled mind or heart. You can even sit or stand with your back to the tree and ask it to take away back pain or other tension – give it a try and see what happens.
Back in Kamloops
I'll be back in Kamloops this weekend and am looking forward to getting back to teaching.
Every time I go recharge, self nurture, and learn new ways to bring more light into myself, I get to then offer more to those who come to class with me.
Even if my teaching doesn't change much, it just helps me communicate the deepest and most profound truths in the most accessible and simplest ways. It helps me guide the process of healing and the discovery of joy in everything I do.
If you live near me, I hope to see you in my Kamloops yoga classes and/or my Yoga Fitness Boot Camp (which is the most fun and empowering way to get in shape I've ever found!)
Wherever you are, may your own journeys and self expansion be blessed, no matter what your path may be.