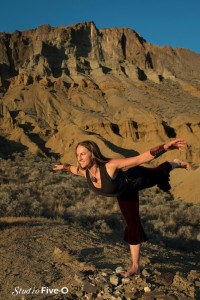 Happiness is a choice. Actually, everything is a choice, or at least how we respond is a choice.
But it isn't always easy to shift emotions, especially if you're feeling overwhelm, fear, frustration, or sadness. So what does yoga say about that?
Well, one of the best ways to move energy and shift the way you feel is to literally MOVE your body.
To that end, yoga is an amazing tool and companion. You can simply start your practice with a few breaths to calm and center, and have an intention that you come into a vibration of peace, happiness, and comfort during your practice.
If you're already joyful and feeling great, then your practice can simply be a celebration of life! But if you're feeling "off," then yoga offers you a way to feel good again.
Having a home practice is an exceptional way to care for yourself and keep your body, heart and mind healthy and balanced.
Inspiration for your Home Yoga Practice

" Approach your practice with openness and curiosity, rather than self-judgment or competitiveness." ~ Rodney Yee

"Start slow and discover your own inner teacher." ~ Kreg Weiss

"I try to do something twice a day, sometimes it's just a little bit. The place that my life happens to be will determine its intensity–anything from restorative to high intensity vinyasa. I try to be true to myself each day and see what I'm moved to do. I don't have a mold or external blueprint that I follow, but in general I'm pulled toward vinyasa, heat-based movement, moving energy through my body. Rigid routines don't really work well for me. I like fluid practice instead. My style is based on being safe and opening the body from a place that is protecting the joint system. I do a lot of creative sequencing, and I teach people my philosophy, "To thine own self be true." You intuitively know what is right." ~ Baron Baptiste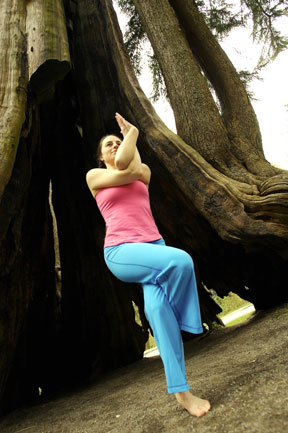 Often I do a short home practice. Or I randomly break out into yoga wherever I am. Fun stuff!
Your yoga practice doesn't need to be an hour or longer to make a great deal of difference. In fact, often 10 or 20 minutes does the trick, and even 5 minutes can leave you feeling infinitely better!
So if you feel inimidated or lack the motivation to roll out your mat at home, just tell yourself you'll do 5 minutes of yoga. Get started, and if that's all you do, fine, but you'll likely discover that it feels so good you just keep moving, breathing, and realigning with your true nature of harmony.
Of course, yoga isn't the only way to shift your attitude.
A deep breath and conscious decision can be enough, or a moment to appreciate nature, to feel grateful for all that you have in your life, or to simply surrender the feelings that aren't what you want to hold, and open to those that feel good. Here's a quote that you can say out loud to create more happiness:
"I'm going to be happy. I'm going to skip. I'm going to be glad. I'm going to smile a lot. I'm going to be easy. I'm going to count my blessings. I'm going to look for reasons to feel good. I'm going to dig up positive things from the past. I'm going to look for positive things where I stand. I'm going to look for positive things in the future. It is my natural state to be a happy person. It's natural for me to love and to laugh. This is what is most natural for me. I am a happy person!"
—Abraham