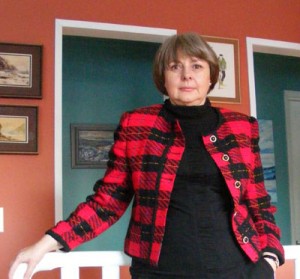 This month in Yoga Boot Camp there was a Grand Prize for the person who made the biggest transformation in their body and lifestyle.
The winner is Constance Ladell, lawyer extraordinaire and an all around wonderful woman! (Even though she isn't sharing her biggest smile with us in this photo, it's under there. She's got a fantastic sense of humor.)
I did a little interview with Constance to see what her approach was. Read on to find out what motivated her and what tips she has to share!
Constance, congrats on such great results! It was wonderful to hear you report that you were down 2 pounds each week of camp for a total of 8 pounds in 4 weeks!

What was the biggest change you saw during the last boot camp session?

The scale provided valuable feedback and encouragement. But the biggest change was an improvement in my energy and well-being – I just felt good. I noticed an improvement in stamina at Boot Camp but, more importantly, but I had more energy overall.

What approach did you take with eating and nutrition?

Firstly, I ate more mindfully. I tracked everything that I ate which made me think. By the way, there are free apps available for tracking.

Secondly, I tried to be conscious of what I was eating. Instead of distracted eating at my desk while I worked through lunch, I thought about what I was eating and actually focussed on chewing and tasting it.

Thirdly, I chose smaller portions but told myself I could have more after waiting for 10 or 15 minutes when I finished eating. At that point, I realized I was actually satisfied and didn't want anything else.

Lastly, and this is something Katrina stresses – I made a healthy breakfast a priority, even though it is my least favourite meal. Next Boot Camp, I am going to try some of the smoothies which Katrina and some of my boot camp colleagues enjoy.

What was the hardest thing for you?

A couple of times, it was getting out of bed at 5:00 am. 🙂  But, seriously, the hardest part is accepting my limitations and working within them. For example, my fifty-something knees don't like a lot of impact, so I need to modify or choose an alternative to high impact movement. Katrina is great at encouraging campers to do just that and she provides a lot of options. My challenge is to accept where I am at and improve from that place instead of comparing myself to others.

What made it all worth it?

Feeling this good and the pride in showing up every day – affirming that I am worth the effort. Now that we are on hiatus for a couple of weeks, I realize how much I miss it.

What advice do you have to other boot campers, or anyone who is working towards a slimmer and healthier body?

If finding time for fitness in an otherwise busy day is a challenge, consider boot camp with Katrina. If your challenge is finding an environment where women of all shapes, sizes, ages and abilities are welcome, consider boot camp.
Wow! Thanks Constance. I'm humbled that you view Yoga Boot Camp so highly and that it has helped so much!
Constance has some excellent tips here as well, so take note if you're working on your own weight. Her approach to meal portions is especially interesting to me.
Feel free to leave a comment, congratulate Constance, or add your own tips! Good luck to the next boot campers! Work hard, ladies. It's worth it!
Register for the Kamloops Yoga Boot Camp for Women today!