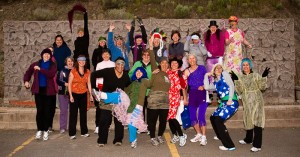 Who knew fitness could be this fun?! An incredible community of women are finding out just how much you can actually enjoy getting in shape with the Yoga Fitness Boot Camp.
We wake up in the early Kamloops morning, watch the sun rise over the mountains, and find the perfect balance of intense fitness exercises and centering yoga. It is transformational, and this program is changing women's lives.
"I want you to know how good I feel and how much respect I have for you as a teacher – you make welcoming room for individuals of varying ages, sizes and abilities while still challenging your students to go to their edge." – Constance
As a yoga instructor, this program is challenging and so much fun to teach. I call on all of my skills to bring the sacred into a very physical workout, make sure it is safe and that there are different options for women of varying fitness levels, and somehow find the edge where everyone is working as hard as they can while still having a blast!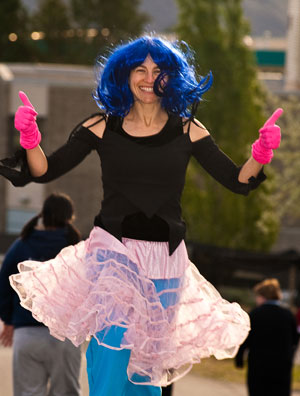 We even had a costume day this past Friday. It was smiles and laughter all around. Really, how can you not have a good time when your instructor is wearing a blue wig and the person across from you has on a ridiculous hat?
Why all the fun? Because it works. When you're in a fun loving community, you want to come to class. You naturally encourage each other, and it's not such a struggle to give everything you've got, because the light hearted feel helps carry you through.
When you're in the feeling of joy, things flow more naturally, and your heart lights up every part of you with delight. That's good yoga, no matter how long you're holding forearm plank for, or how many lunges you've done. When you align with the Spirit, whose nature is pure goodness, everything else is simply more available to you.
It's really amazing to hear comments like "I didn't think I could do 10 more seconds, but then I did and I realized my capacity is so much more than I thought!"
What an honour it is to lead this program, and to be a part of this community of women. Kamloops has some very special ladies, and a great group of them are in this Boot Camp.
Would you like to be part of it? Head on over to the Yoga Fitness Kamloops Boot Camp page for more info and registration.
All Photos by Natalie Anfield / Kamloops Photography