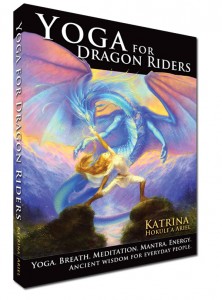 Are you ready? It's here!!!
For those of you who have been waiting and just want to get your hands on a copy of Yoga for Dragon Riders NOW, wait no longer. Here's the direct link to buy the book:
"Yoga for Dragon Riders is a transformational ROAR!"

~ Elizabeth Beeds, publisher of Interior Wellness Magazine

"This book contains a wealth of illustrated, excellent, specific suggestions for all who are interested in yoga on and off the mat."

~ Christine Ewy, accomplished author and educator
What's in it? Well…
Inside Yoga for Dragon Riders you'll find:
– Yoga Asana Practices (plus key poses and alignment)
– Yoga Philosophy
– Meditation (and many visualizations)
– Pranayama (breathing practices)
– Mantra (the power of sound and vibration)
– Sacred Texts (including a synopsis of The Bhagavad Gita and an exploration of many of Patanjali's Yoga Sutras from a Tantric perspective)
– Energy and Light Healing Techniques
– Messages from the Akashic Records
And much more – all with the theme of becoming a Dragon Rider, which invites you to step fully into your power and purpose, guided by love and wisdom.
This book is full of real ways to access your limitless self.
And to me it's really important that you feel freedom to find your own path. Yoga for Dragon Riders offers many, many practices so that you can choose the ones that are right for you – almost like a choose your own adventure book as you are taken on a journey of nine initiations.
Why initiations? Because the journey of incorporating all of these different ideas and practices into your life takes time and integration, and it's best to layer things so you can learn more quickly and completely. You step over an inner threshold as you begin each practice, coming more fully into balanced power informed by love and wisdom.
The Map: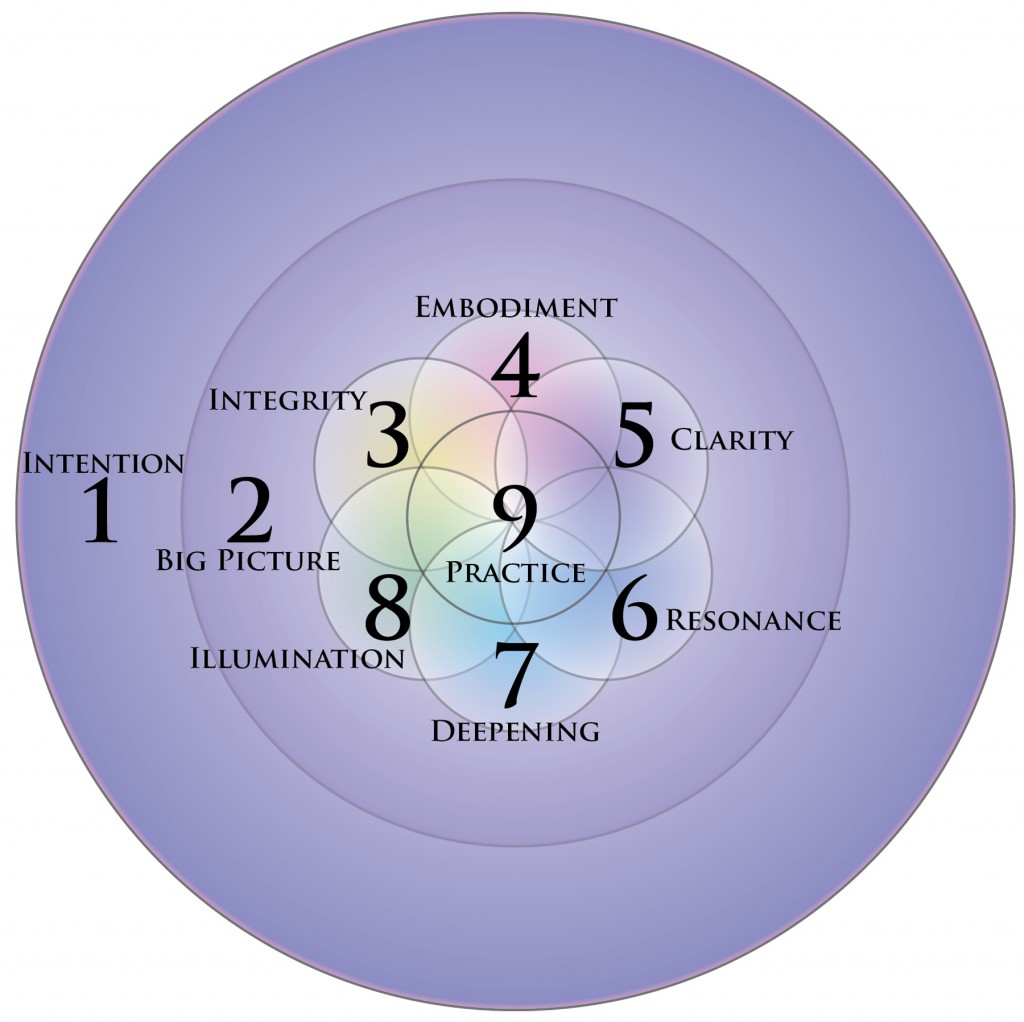 These are the initiations on the journey of the heart which you are invited to take in Yoga for Dragon Riders:
The First Initiation: Intention. Know Thyself.
The Second Initiation: Big Picture. Soaring High Above.
The Third Initiation: Integrity. Shape Your Character.
The Fourth Initiation: Embodiment. Align, Breathe, Move.
The Fifth Initiation: Clarity. Cultivate Focus and Contentment.
The Sixth Initiation: Resonance. The Power of Vibration, Words, and Mantra.
The Seventh Initiation: Deepening. Weaving Philosophy and Reality Together.
The Eighth Initiation: Illumination! Working with Light and Energy.
The Ninth Initiation: Practice. Continuing the Pursuit of Mastery.
(And, yes, I designed "The Map" above, to the pattern of The Flower of Life).
Each segment of learning spirals you closer to the inner circle of knowing and ability, where the practice is integrated more and more as a cohesive whole.
Yoga is the method by which Dragon Riders and Seekers of Truth emerge from where they are hidden, deep within, sleeping beneath the limiting ideas of human habits and conditioning.
Yoga is ancient, with many secrets to be uncovered, and yet it has evolved to become one of the most liberating approaches to live a life filled with meaning—a life where laughter and silence are equally revered.
This particular approach to yoga invites your imagination to swirl and play, informed by many Masters who have passed their knowledge to me, and seen through the lens of my own interpretation of yoga. I also have infused much wisdom from other spiritual explorations, as well as journeys in the Akashic Records and the Library of Life.
This approach to yoga invites you to find your own path and
creative expression, guided by principles and practices that are
effective and empowering, playful and profound.
The cover is gorgeous, the inside illustrations likewise. (Big thanks to my illustrators, cover by Liiga from Latvia and inside illustrations including the one below by Jerome from the Philippines).
There are tons of photos, most of which are by the amazingly talented Kamloops Photographer, Nat Anfield.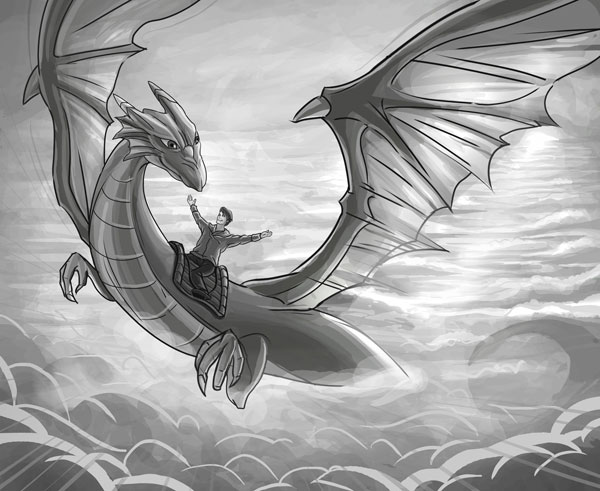 What's Next in the Yoga for Dragon Riders offerings?
Right now Casey and I are working hard on a dedicated Yoga for Dragon Riders website, and I have an 8 week video course with all the yoga practices that are in the book!
So that's exciting.
And beyond that, there will be more online video Mastery Courses in the categories "Sage School" and "The Playground."
Doesn't that sound like fun?
But for now, I dearly hope you enjoy this offering from my heart to yours, as it is an invitation to truly adventure in life as your limitless self.
Note: If you're in my hometown of Kamloops, I will have books coming in and you can buy it straight from me, autographed and everything (if you'd like). Anywhere else in the world, if you click on the link below and order they'll ship it right to you. 🙂